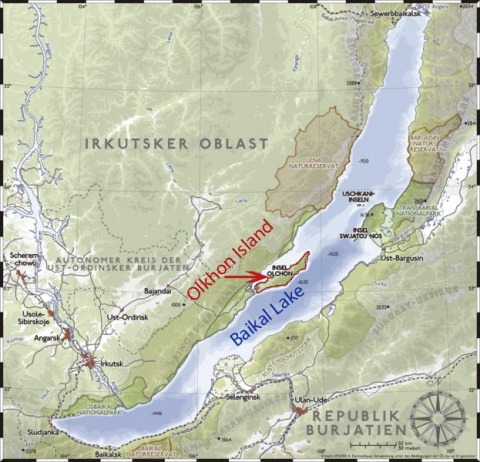 Olkhon is the largest island in Lake Baikal , with its area of 730 km².
The island's appearance is a result of millions of years of tectonic movement, resulting in the hollowing of the channel between the land and the block of stone forming the island. The steep slopes of the mountains show the vertical heave of the earth.
Olkhon has a striking combination of terrain and is rich in archeological landmarks. Steep mountains line its eastern shore, while in the south-western part of the island one can see wide steppes. Mountain Zhima is the highest point on the island, with its height of 1276m it's peaking at 818 m above the water level of Lake Baikal. Olkhon is large enough to have its own lakes, and features a combination of taiga, steppe and even a small desert. A deep strait separates the island from the land.
Population of the island is less than 1500 and consists mostly of Buryats, the island's aboriginal people. Khuzir village is the administrative capital of Olkhon, designated as such in April 1987, when the Soviet government issued a comprehensive decree protecting Lake Baikal. Khuzhir includes about 1,200 residents, has a school, amateur theater and museum of local nature and history.
Most residents are fishermen, farmers, or cattle-ranchers. Due to an increasing number of tourists from all over the world, many residents work in this sector as well and tourism has become an important part of the economy in Olkhon.
The Buryats believe the island to be a spiritual place, and on the western coast, close to Khuzhir, there is Baikal's most famous landmark - Shamanka, or Shaman's Rock. Natives believe that Burkhan, the most powerful god in Buryat area, lives in the cave in this rock. The rock is one of nine Asian Most Sacred Places.
Olkhon is one of the sacred shamanist centers and is considered to be a centre of Kurumchinskay culture of VI-X centuries. There are Buddhist inscriptions on island's rocks, and an ancient cave-dwelling was recently discovered not far from Khuzir Village.
Olkhon Island is a wonderful place for hiking, biking and horse-riding tours, and Small Sea Region is one of the best places on Lake Baikal for aquatic activities!
A tourist visiting the island has the opportunity to see many places via short car excursions. All the routes on Olkhon Island are connected with the main road which runs across the island. Some of the sites to visit by car are Cape Burkhan and the Burkhan Cliff, Cape Sasa, Lake SharaNur, the village of Peschanaya, and the Museum of Olkhon Nature and History in Khuzhir. The museum in Khuzhir is recommended for the first-time visitors. Tickets are fairly cheap and there is an exibition which will familiarize you with the history and sites of Olkhon.