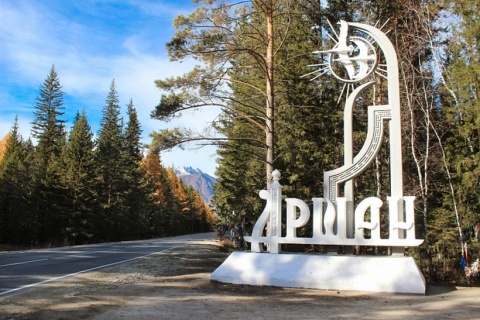 Arshan is a popular hot-springs village, which is nestled right at the foot of Sayan mountains in Tunka Valley.
Distance from Irkutsk to Arshan is 210 km / 130 ml. Altitude: 893 metres above the sea level.
Dense Siberian forest, fresh air, mountainous river Kyngyrga with beautiful waterfalls and natural medicinal springs make Arshan one of the most attractive places for rest in Siberia.
Relaxing short walks (suitable for all groups of tourists) take you to a series of rapids and waterfalls; more experienced hikers can find a plenty of longer and more challenging treks and climbs in the surroundings.
Population of Tunka valley is 29000 people:  
Buryats - 53%  
Russians - 46%
Temperature of Arshan mineral springs differs from 11 - 13°C to 45°C.
The waters are very rich in minerals and microelements, they are effective for drinking and used for medical treatment. Surrounding area is rich with medicinal herbs such as Rhododendron adamsii Rehder/Saggan-Dali, Djen-Shen. In Arshan one can sample mineral springs and visit the Buddhist datsan/church, make an excursion up along Kyngyrga river to waterfalls or to hike farther up Sayan mountains.